---
Administrative Law (5402)
Spring 2016
January 12
Required Text: (You can buy these online if they are not available. )
Examples & Explanations: Administrative Law, by Funk, Seamon, 4rd ed., 2011 – available online at Amazon and BN.COM. There is a 5th edition in press. If it is available, you may also use it.
Additional materials such as cases will be posted on this WWW site.
Class Rules
You should check the WWW site for assignment information and course changes every day before class.
Class participation can affect your final grade. We will use either the Moodle discussion forum or a blog, and we may use CALI exercises and other electronic aids. We may also use quizzes.
Adlaw in the News
Drones
Have you registered your drone?
Interim final rule - Registration and Marking Requirements for Small Unmanned Aircraft
Government as employer/Free Speech
Friedrichs v. California Teachers Association
First Day Assignment
RegBlog - Is Government Prone to Fail
The first in a series of posts on the problems of the modern administrative state.(Not required for the first class, but good background.)
Read Chapter 1
There is no course pack. All other materials will posted here or provided electronically through Moodle.
Modules are chunks of information. You will get modules before each class. A give class may have more than one module, or a module may be used in more than one class. The modules may contain notes for a presentation in class, such as this one does, or it may have questions about the reading that you have been assigned for the class. You are expected to figure out the answers to the questions before class so I can assume that everyone has the basics so that we can discuss more important matters in class. The module will also contain learning objectives and, as appropriate, questions for self-evaluation so you can determine if you have learned the key points from the class. Since this module is only intended to give you context for the course, there are no self-evaluation questions.
January 14
Adlaw in the news
McCain questions Cruz's eligibility to run for president
Reading
Skim Chapter Two, Sections I (Introduction) and II (Delegation Doctrine). You are reading the Delegation Doctrine materials to get a sense of the history of the doctrine and to see that the court has almost never applied it.
Module – 02 - The Delegation Doctrine
Classic administrative detention case - an example of delegating the power to agency to hold someone in custody to protect the public.
Read Chapter Two Section III, A. Congress. We are going to read the Chadha case for next class. For this discussion, just know why the court found the legislative veto unconstitutional.
Module 03 - Limits on Congressional Control of Agencies
January 19
Correction on Medicaid Announcement - it would not give any back money, only provide 100% (versus 90%) for three future years, rather than just one. Worth about about $100m to LA, but no chance that the Congress will fund it.
Adlaw in the News
Obama's Immigration Plan Gets Review From U.S. Supreme Court
From our discussion last class (not required, just for fun):
"We Have Our First Lawsuit Over Ted Cruz's Eligibility -- And It's A Doozy"
Cruz-Complaint-qualifications-to-be-president - messy, to say the least.
Federal Declaratory Judgment Act - authority for the suit. Can it be ripe before the election?
Readings
INS v. Chadha, 462 U.S. 919 (1983)
Rather than using a casebook full of edited cases, we are going to read a smaller number of full text cases because that is what you read in real life. The key difference is that there is a lot more context in a full text case, and context is important for law practice.
Read Chapter 2, Section III (B)(1) - Appointment.
Vesting and Appointments Clause
Module 05 (slightly edited - 18 Jan at 12:46pm)
Limitation on recess appointments - you do not need to read the case
Background Reference Materials for Immigration Discussion
This creates the US treaty obligation to take in persons who are fleeing persecution. It is the major limitation on Congress power to control immigration. The procedures on legally entering the country as a political refugee (except for Cuba) are so convoluted that we effectively ignore our treaty obligations. Most enter illegally and then petition for asylum status.
January 21
Adlaw in the News - Executive Power
Remarks by the President in Address to the Nation on Immigration (original)
Afternoon round-up: Today's grant in immigration case
Readings
Finish reading Chapter 2
Can the president really appoint who he wants? -
Recess Appointments - Can the president really get who he wants?
"The President shall have power to fill up all vacancies that may happen during the recess of the Senate, by granting commissions which shall expire at the end of their next session." Art 2, Section 2.
Limitation on recess appointments (not assigned reading)
Module 07 - Executive Supervision of Agencies
Executive orders on domestic policy
Executive orders on national security
Adlaw in the news - Agency Expertise
As Water Crisis Grew, Officials Belittled Flint's Complaints
Read Chapter 3 Section I, skip Section II for now, then Section III to G. Ex Parte Communications.
Module 08 - Introduction to Adjudications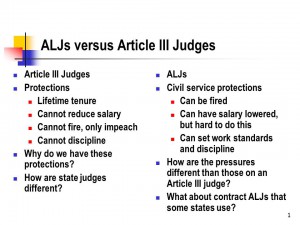 January 26
Crazy Adlaw in the News
What's Really Going on in Oregon! Taking Back the Narrative ! KrisAnne Hall
The actual law on KrisAnne Hall and her constitutional interpretations
Adlaw in the News
Flint Water Crisis - failure of state and federal agencies
(Background - the decisions about the water system were made by an emergency manager appointed by the governor. The mayor and local officials had no power to challenge these decisions.)
EPA Administrative Order to Michigan
Example of an administrative order. What was the adjudication?
APA Adjudication Provisions - These set up the framework for Formal/APA adjudications. We will parse these. Much of the framework is also applicable to non-APA adjudications.One of the reasons we care about whether these apply is that the Equal Access to Justice Act- 28 U.S. Code § 2412 (d)(1)(D) allows attorney's fees for APA proceedings as described in APA 504 (A)(4) which refers to 554 proceedings.)
554 -Adjudications.
556 - Hearings; presiding employees; powers and duties; burden of proof; evidence; record as basis of decision.
557 - Initial decisions; conclusiveness; review by agency; submissions by parties; contents of decisions; record.
558 - Licensing
Reading
We will finish the discussion from last class.
Chapter 3, Section II and the remainder of the chapter.
January 28
Adlaw in the News
American Legislative Exchange Council
Louisiana Administrative Law Day(s)
Reading
Wooley v. State Farm Fire and Cas. Ins. Co., 893 So.2d 746 (La. 2005) - read all of it closely.
(Heads up - The opinion, through paragraph 47, lays out the lower court's ruling. The lower court ruling is a bit disjoint, so do not expect deep legal reasoning it. Try to identify the facts that the district court based its ruling on.)
Louisiana Adjudications: The Wooley Case - Louisiana Adjudications: The Wooley Case - Slides
We will discuss how to enforce a ruling by an ALJ in LA next class - The Bonvillian Cases
February 2
Adlaw in the News
Zika Virus Is Global Emergency, World Health Group Says
Proposed University Cost Savings I
Proposed University Cost Savings II
Readings - LA Adlaw
Bonvillian Cases: Bonvillian v. Dep't of Insurance, 906 So.2d 596 (La.App. Cir.1 2005) and after remand and appeal - Bonvillian, round II.
Readings
Chapter 4 to to: 1. Modern Concept of ''Property'' - p110 in the 4th edition.
Module 12 - Introduction to Due Process
Read paragraphs 11-30 in Goldberg v. Kelly (use the slides as a reading guide)
There are two key issues in Goldberg:
When do you get a hearing?
What process do you get in the hearing?
Practice notes
Tatum, Mark, and William Norris III. "Summary Judgment and Partial Judgment in Louisiana: The State We're In." La. L. Rev. 59 (1998): 131.
Code sections for Declaratory Judgment in LA
February 4
Adlaw in the News
Lifetime GPS Ankle Monitor Constitutional, Posner Says - Belleau v. Wall, 2016 BL 24484, 7th Cir., No. 15-3225, 1/29/16
The Big Lie of Criminal Due Process Rights
How Plea Bargains Are Making Jury Trials Obsolete
Readings
Chapter 4 to II. WHAT PROCESS IS DUE? (120 in 4th edition)
Implied Tenure - Heerden v. Bd. of Sup'rs of Louisiana State Univ. & Agr. & Mech. Coll., No. CIV.A. 10-155-JJB-CN, 2011 WL 320921 (M.D. La. Jan. 28, 2011);
Stigma Plus - Scan his stigma plus claim to see what the basis was - van Heerden v. Bd. of Sup'rs of Louisiana State Univ. & Agr. & Mech. Coll., No. 3:10-CV-155-JJB-CN, 2011 WL 5008410 (M.D. La. Oct. 20, 2011) and the case is eventually settled.
The Flyer from Paul v. Davis, 424 U.S. 693 (1976)
Information on prisons
LA Prison Stats - Murder Rates – If NO was a Country
Study Guides
Module 14 - Prisons as Admistrative Institutions
February 9
February 11
Adlaw in the News
Big news: Carbon pollution controls put on hold
Supreme Court order staying GHG Rule
Virus of the day updates
Readings
Note - Module 12 - Introduction to Due Process - Updated with materials from the slides on Goldberg.
Finish Chapter 4.
CBA in Hearings
Read Mathews v. Eldridge (edited version).
The Social Security Disability Insurance Program - Infographic
Module 15 - Mathews and the Modern World
Hamdi v. Rumsfeld, 124 S.Ct. 2633 (2004) - paragraph 65
Why the Hand Rule Does Not Work - not assigned, just if you are curious.
Bias in Hearings
Module 16 - Bias in Administrative Hearings
554d - exception to separation of functions for agency
What Senator Kefauver said in Pillsbury
The Congressional Hearings Problem (Pillsbury redux)
Bias in medical licensing boards
February 16
Adlaw in the news
Justice Antonin Scalia Is Dead at 79
Justice William J. Brennan - the liberal Scalia
Readings
Chapter 5 to D. The Procedures of Notice-and-Comment Rulemaking (179 in 4th edition)
APA 551(4)
Exemptions from Notice and Comment Rulemaking - 553
Rules in Louisiana: RS 49:951
Module 18 - Introduction to Rulemaking - Introduction to Rulemaking - Slides
Agencies can legislate by making rules using notice and comment. This has become very controversial as Congress has tried to prevent the President from using executive power. The major contemporary administrative law battles over the use of old statutes - most of the environmental laws were passed in the 1960s and 1070s - for new problems such as climate change. While these laws had huge bipartisan support when passed, with the conservation movement itself starting with a Republican president, the EPA has become one of the most hated agencies by Republican politicians. Because of this, it has been impossible to amend these laws to deal with new problems. Thus some Supreme Court justices believe that it is improper for the President to use general language in the statutes to address problems that were not contemplated when the statute was passed - the elephant in the mouse hole problem you learned about in Constitutional law.
This class focuses on why we use rulemaking in administrative law and when the agency has to use the notice and comment process to make rules.The general question is deciding whether the agency is creating or changing legal obligations, or whether it is just providing guidance on what it thinks the existing law means.
February 18
Adlaw in the News
Justice Scalia's Irreplaceable Views on CO2 and Climate
Readings
Finish Discussion from last class
Introduction to Rulemaking - Slides
Think about whether this is guidance or an improper rule: Ed Dept: Dear Colleague Letter (Skim for potential problems.)
Chapter 5, D. The Procedures of Notice-and-Comment Rulemaking (179) to H. Other Administratively or Statutorily Required Procedures.
Module 19 - The Procedures of Notice and Comment Rulemaking
Notice and Comment Rulemaking – 553
What does a rule look like?
Clean Water Rule: Definition of ''Waters of the United States''; Proposed Rule
Clean Water Rule: Definition of ''Waters of the United States''; Final Rule
Sixth Circuit puts controversial 'waters of the United States' (WOTUS) rule on hold
Publishing Legislative Rules that do not need Notice and Comment - 552(D)
Judicial Involvement in Rulemaking Procedures
Vermont Yankee Nuclear Power Corp. v. Natural Resources Defense Council, 98 S. Ct. 1197, 435 U.S. 519 (1978)
NRC fast track program for new reactors - the operating and construction permit process has now been consolidated, to reduce the opportunities for administrative delay.
A future for nuclear energy: pebble bed reactors - tech study for those who are interested.
Gas Makes Nuclear Power Radioactive - current economics of nuclear power.
Study Guide for Vermont Yankee (issues we will talk about in class)
February 23
Adlaw in the News
Judicial Deference to Administrative Interpretations of Law (Administrative Law is not for Sissies) - a very thoughtful piece by the young Justice Scalia, before he became enamored of textualism and originalism and remembered what it was to be an adlaw teacher. This is not assigned at this point, but may be later.
Just filed - Briefs in the GHG Rule Case
GHG Rule Case - Brief on Statutory Questions
Readings
Finish discussion of Vermont Yankee
NRC fast track program for new reactors
Review the Reg Map for Informal Rulemaking
Finish reading chapter 5 - read for general principles, you are not responsible for knowing the specifics of this material. Slides - Executive Review of Rulemaking
2015 Draft Report to Congress on the Benefits and Costs of Federal Regulations and Agency Compliance with the Unfunded Mandates Reform Act - just look at the tables in Chapter 1.
Saving Lives: A Review of the Record - This is a great article on problems with CBA. Read 13-18 and look hard at tables 1-3 at the end. (AED - automatic external defibrillator)
Cost benefit of armed guards in schools - example of a proposed high cost response to an emotional risk.
We will discuss cost benefit analysis and how it plays into rulemaking.
Module 20 - Cost-Benefit Review - added 3 April 2016
February 25
Adlaw in the News
The Apple-FBI Fight Isn't About Privacy vs. Security. Don't Be Misled
Readings
Chapter 6 to Other Widely Shared Injuries, p. 225. This should be quick as it should just recap what you learned in constitutional law. Slides - Introduction to Judicial Review
Module 21 - Standing Introduction (evaluation questions revised)
Lujan - not assigned
Clapper v. Amnesty International USA, 133 S.Ct. 1138 (2013) - Edited, reformatted, and rearranged version for class discussion. We are going to read this case closely to decide how much the Supreme Court has limited standing, or whether this is a sui generis national security law case. It reviews all the key administrative law standing cases in a challenge to the FISA law. Study questions based on the edited version of the case. We will go through these as a review of standing and how the court plays games with it. We will discuss this from the study questions and the edited opinion.
Read carefully. Now that we are done with the structural part of the course, we are going to read some cases very deeply. This is not casebook blurb stuff, we want to dig in and figure out what the court is doing.
March 1
Adlaw in the News
Why privacy matters - a TED talk (Greenwald was one of the primary reporters who worked with Snowden.) This is a good discussion about why privacy should matter to people who are not doing bad things. As lawyers, we should fundamentally understand this through our concept of attorney-client privilege.
Excellent review of the current status of the Apple-FBI fight, from a tech/legal perspective
Apple's Motion to Vacate Brief and Supporting Declarations
Readings
Sea Level Rise and The Future of the Louisiana Coast - Introduction
Finish discussion of Clapper
Massachusetts v. E.P.A., 127 S.Ct. 1438 (2007) - the global warming case. Read paragraphs 23-85. This is the standing material referred to in the text. We are going to look carefully at this case and climate change as the critical regulatory dilemma of our time. We will read more of the case when we are reading Chapter 7.
553(e) - petition for rulemaking
Module - Mass v EPA - Standing
Mass v EPA - Standing - Slides (Corrected slide set)
(Module 21 – Standing Introduction (evaluation questions revised))
March 3
Adlaw in the News
Increasing estimates for sea-level rise bring questions on coastal plan - this includes links to the plans that were raised in class that assume that we should give up on the land south of NO.
F.B.I. Error Locked San Bernardino Attacker's iPhone http://nyti.ms/1UwUpxS
U.S. opening brief in U.S. v. Texas - the immigration case - pp 65-71 discuss whether a document is guidance that does not need notice and comment, or a rule that does. There is also a discussion of zone of interest and standing, arguing that the facts that create standing have to be the same facts that satisfy zone of interests.
Readings
Finish Mass v. EPA
Mass v EPA – Standing – Slides (Corrected slide set)
Chapter 6 - Read to II. EXCEPTIONS TO JUDICIAL REVIEW UNDER THE APA, p. 241.
March 8
Adlaw in the News
Judge enjoins Indiana governor from stopping funds to Syrian Refuges - Interesting zone of interest discussion starting on page 12.
Readings
Read Chapter 6 to Ripeness, p. 261
5 U.S.C. § 701. Judkicial Review (committed to agency discretion)
5 U.S.C. § 704. Actions reviewable
Sackett v. Environmental Protection Agency, 132 S.Ct. 1367 (2012) - paragraphs 15-42.
Sackett 2nd Compliance Letter - this is the one that was litigated.
Module 23 - Access to Judicial Review and Finality
March 10
Adlaw in the News
Cumberland Cty. Hosp. Sys., Inc. v. Burwell, 2016 BL 68212 (4th Cir. Mar. 07, 2016) - you cannot escape exhaustion even if the agency does not have the resources to hear your case for 10+ years.
Administrative Law Scholars Brief in US v Texas (when is notice and comment needed)
Readings
Finish Chapter 6
Module 24 - Ripeness and Wrap-up
Rather than start Chapter 7 (judicial review), we are going to watch a documentary on rulemaking on visibility in the Grand Canyon under the 1976 Amendments to the Clean Air Act.
March 15
Adlaw in the news
AHA v Burwell - DCC (2016) - DCC case on the same facts as the Medicare appeals case from last class, reaching the opposite result. It has an excellent discussion of federal mandamus standards starting at page 10. We will look at pages 10-12 in class.
Reading
Chapter 7 to 281 (Brown and Williamson example)
Module 25 - Introduction to Judicial Review
FDA v. Brown & Williamson Tobacco Corp., 529 U.S. 120 (U.S. 2000) paragraphs 24-96.
Slides - use these to guide your reading of Bown and Williamson. We are looking at the conflict between the clear meaning of the words in the Act and the legislative and regulatory history of how the Act was applied. We have Scalia rejecting the plain meaning in favor of legislative history and Breyer rejecting legislative history and going for the clear meaning.
Background Information on Tobacco
The 1964 Surgeon General's Report on Smoking and Health (just for reference)
Reduced incidence of admissions for myocardial infarction associated with public smoking ban: before and after study
Nicotine without tobacco - How does this fit with Brown and Williamson?
Social Class and Life Expectancy
March 17
Adlaw in the News
Obama Chooses Merrick Garland for Supreme Court
Readings
Finish Brown and Williamson
FDA v. Brown & Williamson Tobacco Corp., 529 U.S. 120 (U.S. 2000) paragraphs 24-96.
Massachusetts v. E.P.A., 127 S.Ct. 1438 (2007) 86-106, plus Scalia's dissent.
Chapter 7 to 293 (II. SUBSTANTIAL EVIDENCE REVIEW)
Module 26 - Judicial Deference to Agency Legal Interpretations after Chevron
March 22
Adlaw in the News
CDC Guideline for Prescribing Opioids for Chronic Pain — United States, 2016 - example of guidance from a non-regulatory agency
http://pca.st/2EmX - Law nerd podcast on the Blue Book and other matters.
Readings
Finish materials from last class
Chapter 7 to 309 (just past the discussion of State Farm after Overton Park)
Module 27 - Judicial Review of Facts (this covers another few pages that will get to next class.
March 24
Exam info
I have updated the exam archive:
https://biotech.law.lsu.edu/Courses/Exams/adlaw_exams.htm
Expect this year's exam to look more like last years than like previous years exams.
Adlaw in the News
Separation of Powers Restoration Act of 2016 3.17.16
A bill to make all judicial review of agency determinations of law de novo. How would this affect Chevon and Brand X?
§ 706. Scope of review.
ABA Rulemaking 101 - not new, but new to me. An interesting overview of rulemaking from the perspective of agency counsel explaining the process to agency personnel.
Readings
Finish Chapter 7
First part of the reading is in Module 27.
28 U.S.C.A. § 2401 - SOL for actions against the US
Module 28 - Judicial Review Procedural Issues
March 29
Adlaw in the news
U.S. Says It Has Unlocked iPhone Without Apple - US Drops Case Against Apple (filing)
Introduction to Administrative Physical Searches
The popular perception of search law has been shaped by TV shows and movies, with their endless plots around whether warrants were properly obtained and executed. Law schools still focus the 4th Amendment criminal law search warrant and the exclusionary rule. Yet in the modern world, 4th Amendment probable cause warrants are only small part of the search world. Most searches are done under administrative law power, from home inspections for rat control to national security surveillance. These are done with abbreviated warrants or no warrants at all. This is a critical area of law that does not get much attention even in traditional administrative law courses. We cannot take time to do it justice - that is done in Counterterrorism Law - but over the next two classes we will do an intensive introduction to administrative search law.
Module 29 - Physical Searches - Sides
Read:
Camara v. Municipal Court City and County, 387 U.S. 523 (1967) par. 23-56.
Chapter 8 to IV. OBTAINING DOCUMENTS AND TESTIMONY.
(You should have read Biswell and Burger in ACJ, as well as the warrant cases.)
Resource Cases on Administrative Physical Searches
Frank v. Maryland, 359 U.S. 360 (1959)
See v. Seattle, 387 U.S. 541, 18 L. Ed. 2d 943, 87 S. Ct. 1737 (1967)
U.S. v. Biswell, 406 U.S. 311, 92 S.Ct. 1593, 32 L.Ed.2d 87 (1972)
New York v. Burger, 482 U.S. 691 (1987)
Cases on Administrative Searches - a collection of administrative search cases
March 31
Adlaw in the News
Order in GENEVA COLLEGE V. BURWELL - The Court seems to be asking HHS to change the rules for religious employers opting out of contraceptive coverage.
Readings
Finish Chapter 8
Module 29 – Physical Searches - revised (I split out the physical search materials)
Module 30 - Data Collection by Agencies - the remainder, reorganized and revised. This includes some material not in the book. (revised 8:36AM 31 March 2016 to include NSLs and reorganize contesting illegal subpoenas)
Reportable diseases in Lousiana
The (redacted) NSL from the Doe Case - The Doe Litigation
April 5
Updates and Exam Preparation Materials
Module 20 - Cost-Benefit Review - I have prepared a review module for the discussion of cost-benefit review (Feb 23)
Listing of modules for Administrative Law Spring 2016
Administrative law glossary study aid - map form
Adlaw in the News
Has the Obama Administration Been Honest about Transparency? 11 minute podcast about FOIA and whistle-blowers under the Obama Administration
The National Security Letter Canary
State v. Andrews - Maryland lower court requires a warrant for cell phone tracking - Discussion on Just Security
Enhance your expectation of privacy - buy curtains - not new, just fun
Readings
We are going to spend a day on the Freedom of Information Act, The Privacy Act, and the federal and state open meetings laws. These are critical in practice. This will be a quick survey to introduce you to the concepts and how to use the laws. Rather than using Chapter 9, we will read:
The Reporters Committee for Freedom of the Press, Federal Open Government Guide 10th Ed (2009).
Citizen Use of Public Records Laws; Public Interest Environmental Law Conference, March 6, 2016 - pp. 2-6 (this is an excellent guide to using FOIA as an adjunct to litigation)
The joys of public hearings (watch at home)
We are also going to look at the Louisiana Attorney General's guides to the Louisiana Law:
Louisiana Attorney General's Guide to the Louisiana Open Records Act
Open Records - Annotated Statute
Module 31 - FOIA and Open Meetings - FOIA and Open Meetings - Slides
The special problem of access to federally funded scientific research - resource materials
MEMORANDUM FOR THE HEADS OF EXECUTIVE DEPARTMENTS AND AGENCIES: Increasing Access to the Results of Federally Funded Scientific Research
Public Access to Data from Federally Funded Research: Provisions in OMB Circular A-110 - 2013
Public access mandates for federally funded research - Columbia University Scholarly Communication Program
April 7
Adlaw in the news
Why you should not have an expectation of privacy for data in the hands of third parties
Exam Review Materials
Key information - course content varies by year, so there are questions on previous year's exams that you do not have the information to answer.
Adlaw Exam 2015 - We will work through this in class. You need to read and think about this ahead of time if you want to benefit from the exercise.
Administrative Law Spring 2014 - Sample answers - we will also look at these short answer questions and sample answers to discuss the purpose of short answer questions and how to answer them effectively.
April 12
Adlaw in History
Readings
Tort Claims Against the Government - Text
I have prepared a supplement to the text for claims against the government. For class on Tuesday, read to p. 13, State Tort Claims Acts. We will not use all of this material in class, but you might read what we do not cover so you will have an overview of these issues for practice.
These excepts of three cases that are key to understanding the philosophy and jurisprudence of the Federal Tort Claims Act.
Form 95 - CLAIM FOR DAMAGE, INJURY, OR DEATH
We will use slides to assist the discussion so that we can look at statutory provisions more easily. Review these as you read the case excepts to make sure you pick out the key points.
April 14
Adlaw in the News
Zika Virus Causes Birth Defects, Health Officials Confirm
Readings
Module 32 - Suing Agencies for Torts
Tort Claims Against the Government – Text
Read 14-16, state tort claims acts.
Gregor v. Argenot Great Central Insurance Co., 851 So.2d 959 (La. 2003)
This is the lead LA case on the LA-TCA. Points to cover are how the LA-TCA is interpreted compared to the FTCA, how the court resolved the discretionary act question, and whether this case really reinterpretes the Fowler case it discusses. Be sure to read the concurrences and dissents.
National Mfg. Co. v. United States. Great Western Paint Mfg. Corp., 210 F.2d 263 (8th Cir. 1954) [32]
Read paragraphs 28-80 - which is the history of The Flood Control Act of 1928 and its absolute immunity provision. This is our introduction to absolute immunity and a building block for the Katrina cases.
Resources
Louisiana Constitution - ARTICLE XII. GENERAL PROVISIONS
Section 10.(A) No Immunity in Contract and Tort. Neither the state, a state agency, nor a political subdivision shall be immune from suit and liability in contract or for injury to person or property.

(B) Waiver in Other Suits. The legislature may authorize other suits against the state, a state agency, or a political subdivision. A measure authorizing suit shall waive immunity from suit and liability.

(C) Limitations; Procedure; Judgments. Notwithstanding Paragraph (A) or (B) or any other provision of this constitution, the legislature by law may limit or provide for the extent of liability of the state, a state agency, or a political subdivision in all cases, including the circumstances giving rise to liability and the kinds and amounts of recoverable damages. It shall provide a procedure for suits against the state, a state agency, or a political subdivision and provide for the effect of a judgment, but no public property or public funds shall be subject to seizure. The legislature may provide that such limitations, procedures, and effects of judgments shall be applicable to existing as well as future claims. No judgment against the state, a state agency, or a political subdivision shall be exigible, payable, or paid except from funds appropriated therefor by the legislature or by the political subdivision against which the judgment is rendered. (emphasis added)

Amended by Acts 1995, No. 1328, §1, approved Oct. 21, 1995, eff. Nov. 23, 1995.
LA

RS 9:2798.1

FTCA
B. Liability shall not be imposed on public entities or their officers or employees based upon the exercise or performance or the failure to exercise or perform their policymaking or discretionary acts when such acts are within the course and scope of their lawful powers and duties.

C. The provisions of Subsection B of this Section are not applicable:

(1) To acts or omissions which are not reasonably related to the legitimate governmental objective for which the policymaking or discretionary power exists; or

(2) To acts or omissions which constitute criminal, fraudulent, malicious, intentional, willful, outrageous, reckless, or flagrant misconduct.

(a)

Any claim based upon an act or omission of an employee of the Government, exercising due care, in the execution of a statute or regulation, whether or not such statute or regulation be valid, or based upon the exercise or performance or the failure to exercise or perform a discretionary function or duty on the part of a federal agency or an employee of the Government, whether or not the discretion involved be abused.
LA-TCA - Gregor v. Argenot - Slides
Oyster Information
Incidence and Trends of Infection with Pathogens Transmitted Commonly Through Food — Foodborne Diseases Active Surveillance Network, 10 U.S. Sites, 1996–2012
Louisiana Oyster Harvest Rule - 2014 - the resulting rule
Flood Control Resources
April 19
Reading (same as last class)
National Mfg. Co. v. United States. Great Western Paint Mfg. Corp., 210 F.2d 263 (8th Cir. 1954) [32]
Read paragraphs 28-80 – which is the history of The Flood Control Act of 1928 and its absolute immunity provision. This is our introduction to absolute immunity and a building block for the Katrina cases.
I will discuss Mississippi delta geology and sea level rise as a set up for the Katrina cases on the last class.
Natural Cycles and the Mississippi Delta
April 21
Last day of class!
Resource materials
New Orleans Hurricane Betsy Flooding 1965
LBJ and the Response to Hurricane Betsy
Hurricane Surge Hazard Primer – Bob Jacobsen (2016)
History of MRGO - http://www.mrgo.gov/MRGO_History.aspx
Should Katrina have been a surprise? - Washing Away - Definitely take a look at these stories.
The Hurricane Pam Exercise, in which Louisiana promised FEMA that it was ready for a major hurricane.
The Mythical Hurricane Response Plan - If this had be followed, there would have been a lot fewer deaths.
Cases
I am going to review these with the slides. You should read the Levee Breach Cases, Round II to get a sense of how the court resolved the cases. If want to understand the law more deeply, look at the two Graci cases and use the slides to review the district court opinion in the Levee Breach Cases.
Graci v. United States, 456 F.2d 20 (5th Cir. 1971)
Graci v. U.S., 435 F.Supp. 189 (E.D.La. 1977) (short case, just finds that the Corps wins because it exercised discretionary authority)
Central Green Co. v. United States, 531 U.S. 425 (2001) - the key Supreme Court case on Flood Control Act immunity for dual use projects. The heart of the case is paragraphs 41-45.
In re Katrina Levee Breaches, 5th Cir, Round II (The very rare situation where the 3 judge panel overrules itself, rather than the case going on to en banc review.) (District court opinion for reference, you do not have to read this: In re Katrina Canal Breaches Consolidated Litigation, 647 F.Supp.2d 644 (E.D.La. Nov 18, 2009) Final opinion and appendix.)
Flood control law and Katrina Levee Breach Cases - 2016
Exam Updates
I will post all questions and answers about the exam here. Check back periodically. Email me with any questions.
---
Will our Admin exam be the traditional 4 hours?
Yes
---
> I was wondering if you could answer a question for me about the exam on
> Friday. How important is it to be able to cite specific case names in our
> answers? Do we need to spend time memorizing the small ones?

The big ones – Chevron is probably top of the list – that stand for key tests you should know because of what they stand for. Beyond that, there is no need to memorize cases.
The Climate Change and Public Health Law Site
The Best on the WWW Since 1995!
Copyright as to non-public domain materials
See DR-KATE.COM for home hurricane and disaster preparation
See WWW.EPR-ART.COM for photography of southern Louisiana and Hurricane Katrina
Professor Edward P. Richards, III, JD, MPH - Webmaster

Provide Website Feedback - https://www.lsu.edu/feedback
Privacy Statement - https://www.lsu.edu/privacy
Accessibility Statement - https://www.lsu.edu/accessibility