"Among the most urgent of the Councilís intellectual tasks is the need to provide an adequate moral and ethical lens through which to view particular developments in their proper scope and depth."
Chairman's Vision

Beyond Therapy: Biotechnology and the Pursuit of Happiness
Monitoring Stem Cell Research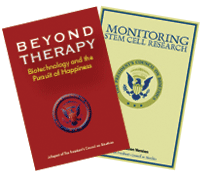 Beyond Therapy investigates potential uses of biotechnology for purposes "beyond therapy," and explores the scientific, ethical, and social implications. Monitoring Stem Cell Research updates key developments in stem cell research and in related ethical, legal, scientific, and policy arenas.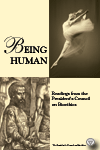 Featuring novels, stories, poems and writings rich in bioethical wisdom, for groups studying together or individuals reading alone.