---
Administrative and Environmental Law Seminar
Richards - Spring 2016
January 12
This seminar will focus on applying Executive Order 13653 (adapting to climate change) to permitting under the NEPA (National Environmental Policy Act) and the ESA (Endangered Species Act). These are the primary tools to protect the environment from new ill-considered new development. We are going to look at how this might be applied to areas threatened by sea level rise, the most predictable consequence of global warming, and the #1 problem for Louisiana. First class we will talk generally about NEPA, sea level rise, and its threats to the LA and other coasts. Please review these materials before class.
The National Environmental Policy Act of 1969, as amended
Introduction to NEPA - DOE/HOMER/ORNI (PPT)
Executive Order 13653: Preparing the United States for the Impacts of Climate Change (Annotated)
Second class we will have a guest speaker, Profess Turner, from the School of the Coast and Environment to talk about Louisiana coastal wetlands.
Sea Level and Louisiana

NOAA Office for Coastal Management Releases Sea Level Rise and Coastal Flooding Data for Louisiana
NOAA's Office for Coastal Management has released data in the the Sea Level Rise and Coastal Flooding Impacts viewer for Louisiana. Based on the best available elevation data available, the tool simulates various sea level rise scenarios and the corresponding areas that would be impacted by flooding. The tool also provides information about marsh impacts, nuisance flood frequency, and social and economic data.
NOAA OCM used the following explicit levee location and elevation data sources for Louisiana:
Louisiana Coastal protection and Restoration Authority (CPRA) 2015 Flood Protection GIS Database
USACE National Levee Database
Detailed field survey information from the Louisiana State University AgCenter
USGS Northern Gulf of Mexico Topobathy DEM.

To view the tool visit https://coast.noaa.gov/digitalcoast/tools/slr.

Grand Isle Relative Sea Level Rise Rate- 9.03 mm per year- (+/- .46 mm per year)- 2.96 feet in 100 years
Mean Sea Level Trend
8761724 Grand Isle, Louisiana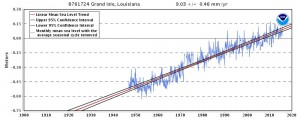 The mean sea level trend is 9.03 millimeters/year with a 95% confidence interval of +/- 0.46 mm/yr based on monthly mean sea level data from 1947 to 2014 which is equivalent to a change of 2.96 feet in 100 years.
[Metadata: Earlier data stored in database as station 8761720]
January 19
One of key proposals for Louisiana Coastal Restoration is to create diversions (branch channels) in the Mississippi in order to offset land loss caused by subsidence and, increasingly, sea level rise from climate change. Professor Turner had done fundamental research on the science of Louisiana wetland loss and whether these diversions will build new land or hasten the destruction of the existing wetlands. This topic goes to core question of whether the basic premise of coastal restoration is supportable in the face of relative sea level rise (RSLE). These diversions, as with the rest of the coastal restoration plan, must be permitted by the Corps of Engineers. This process requires an EIS under NEPA and provides a chance to attack the plan through challenging the adequacy of the EIS.
Readings for Prof. Turner's presentation
Turner RE. Doubt and the values of an ignorance-based world view for restoration: coastal Louisiana wetlands. Estuaries and Coasts. 2009;32(6):1054–68.
Mississippi river freshwater diversions in southern Louisiana: Effects on wetland vegetation, soils, and elevation - this reviews the basic scientific questions. You do not need to understand the technical material, just skim to see the basic issues.
PowerPoint intro to Diversions: Sediment Diversions: Project Planning, Permitting and Implementation, Governor's Commission Diversion Sub-Committee (July 23, 2014)
January 26 - discuss topics and resources
New Class Times for January 26th
We have a dean candidate visiting on the 26. Class will start at 2:10 because there is a faculty luncheon with the candidate that runs into class time. We will end class at 3:20 so that you can attend the open forum with the candidate in the auditorium at 3:30.
Topics and students working on the topic
Wetlands Assimilation Projects (Sewage Diversions) - resources - additional resources on Moodle
Annie Hutson
Lucas Self
Andrew Whall
Asserting ownership of the wetlands
Andrew West
The effects of faulting, subsidence, and sea level rise on diversions
Emily Schwab
February 2
We will start at 2 due to a faculty meeting. If I am late, sit tight. We will have two guests to help with topics.
New resources on the delta cycle and the effects of faulting:
Chris McLindon – Rethinking Coastal Restoration: The Delta Cycle and Land Area Change in the Louisiana Coastal Plain
A proposal to assess the impacts of relative sea level rise due to subsidence using industry knowledge base, data and technology. The New Orleans Geological Society, November 2015
Weather and climate nerd stuff
http://www.wunderground.com/blog/JeffMasters/show.html
http://dotearth.blogs.nytimes.com/
Climate Denial Crock of the Week
Good Ted talk on sea level rise
February 9
Mardi Gras Break
I put together some resources about the Baton Rouge Fault here:
http://sites.law.lsu.edu/coast/2016/02/the-baton-rouge-fault/
More fault materials are here:
http://sites.law.lsu.edu/coast/tag/faults/
February 16
Project update day. We will go around the room and each person will give us a progress report. This will let us brainstorm on what folks have found and talk about how to focus the projects.
February 23
Class is cancelled due to threatening weather.
March 1
We are going to pick from last time we met. Everyone should be prepared to do a status report. I know that the diversion group is meeting with Ed B on Wednesday for a brainstorming session, so I want a written a two page written update from everyone by Sunday night so that we can circulate it before class on the 8th.
March 8
Discuss student projects
March 15
Guest speaker on wetlands and subsidence.
March 22
Our speaker has been rescheduled for next week.
Review paper progress.
March 29
Speaker from USGS is on.
April 5
Discuss paper progress.
Changing Course - the competition to rethink restoration that our speaker mentioned.
April 12
There is no class this week to allow you to complete your drafts. I need to see those by the end of the day of Friday so that I will have time to get back to you with comments before your presentation on the following Tuesday.
The Climate Change and Public Health Law Site
The Best on the WWW Since 1995!
Copyright as to non-public domain materials
See DR-KATE.COM for home hurricane and disaster preparation
See WWW.EPR-ART.COM for photography of southern Louisiana and Hurricane Katrina
Professor Edward P. Richards, III, JD, MPH - Webmaster

Provide Website Feedback - https://www.lsu.edu/feedback
Privacy Statement - https://www.lsu.edu/privacy
Accessibility Statement - https://www.lsu.edu/accessibility